Give your room a nice lift with this durable vintage nixie clock!
TubeClock ™ was introduced in 1955. It is considered a meaningful and practical work of art. With high artistic content, it gives a strong retro feeling in the last century and can decorate your home more elegantly with a unique sense of time. The soft and warm glow of the Nixie tubes makes it perfect to use it in your bedroom without disturbing your sleep. The beautiful colors glow in a well-distributed and embellished way that gives your room a chic look. Let your family and friends adore your room on their next visit.
1 + 1 FREE (CLEARANCE) ACTION TEMPORARY ACTION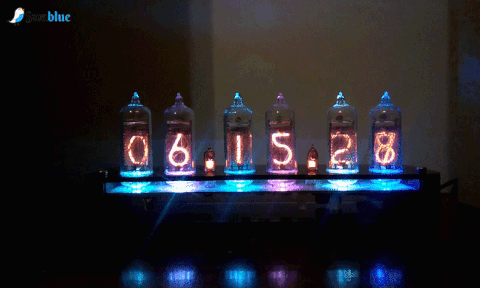 EASY TO USE
If necessary, the tubes can be easily replaced, as they are not soldered to the PVB and no adapters are required. This impressive Nixie tube clock also has a built-in motion sensor that shuts off the Nixie tubes when no one is near the clock to extend tube life and save energy. The clock has a beautiful finish with olive ash, which is polished with Danish oil.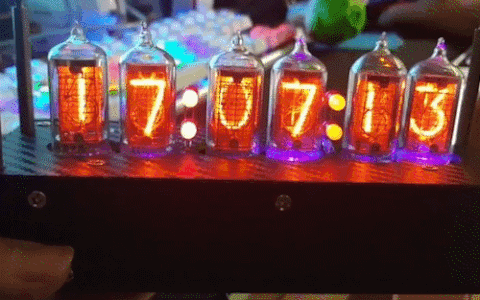 BENEFITS
✅ Replaceable Nixie Tubes - They are not soldered to the PCB.

✅ Motion Sensor - This feature extends the life of nixie tubes significantly. The motion sensor turns off Nixie Tubes when no one is near the clock. You can turn this feature off in the menu if you want to keep Nixie Tubes on all the time.

✅ Visual Effects - Two types of slot machine effect and cross-fading effect.

✅ Reliable modern components - High accuracy.

5000-20000 Hours Life: This clock has auto-sleep function. Has an automatic on / off setting.

✅ Time Module: Highly accurate I2C real-time clock (RTC) with an integrated temperature-compensated crystal oscillator (TCXO) and crystal.
UPDATE 11/27/2020: Due to the high demand for this product, we expect to be sold out quickly. When we run out of stock, it takes 7 to 14 days until we have this product back in stock.
SECURE PAYMENT GUARANTEED
We use the most used Payment Provider in the Netherlands & Belgium, called Mollie.
You can pay with us with: