Shipping-provide global express shipping
Delivery time- 7-15 days worldwide
Processing time- shipped within 24 hours after payment
Fast refund- 100% money back guarantee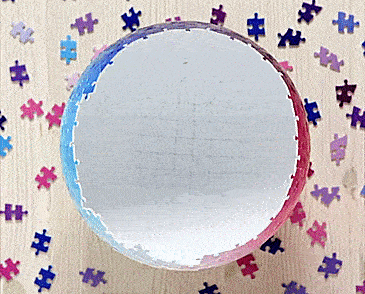 Not only is it a puzzle, but it looks like a piece of art when it's all done.
This 3D puzzle will keep you occupied for a while as you try to match up each geometric piece with one other. The end result likes like a high-end piece of art that you might buy for your room. Since it involves every color of the rainbow, it won't be hard to find a room to put it in. The final orb is around 9 inches in diameter – not too big but definitely large enough to make it a talking piece.
If you're looking for a great conversation starter, then look no further.
A lot of people like to hang up puzzles when they're done with them. That's not really that impressive. Putting together a 2D puzzle definitely takes some focus, but it's nothing compared to a 3D puzzle. Plus, getting a piece of cardboard and tape for a 2D puzzle makes the final product look junky. This 540 piece color 3D puzzle was made very specifically. It was made to be a work of art in your home.
Putting together a 3D puzzle is a lot more difficult than you think.
It's not necessarily hard to piece together a 3D puzzle, but it takes a level of focus and determination that you don't need for a 2D puzzle. It becomes even more difficult when you put together a puzzle like this since there are no pictures to go by. The pieces will slowly transition through colors across the rainbow, creating a glorious gradient.
When you're finished with this piece, you have to take a step back and appreciate the hard work that went into it. People who have done 3D puzzles have a lot of respect for others when they see something like this 540-piece color 3D puzzle sitting on an end table.

This is the perfect gift for a loved one since you can work on it together.If you're looking for a gift for a close friend or family member, this 540 colors 3D puzzle is a perfect option. Not only does it turn into a work of art, but it also provides hours of entertainment that you can spend together. There's something about putting together a tough 3D puzzle with someone that you love that makes you even closer. After overcoming the challenge, you feel like you did something special together. That feeling of shared accomplishment is what you get with this 3D puzzle.
We truly provide the most amazing, fashionable and highest quality products in the world.

We will do our 

 best

  to provide excellent customer service support to assist everyone, because we attach great importance to absolutely 

zero- 

 

risk

 customer satisfaction  .

We ensure that every customer is  

100% satisfied

  in all aspects 

!

If you are not satisfied with the receipt, you can apply for a refund.

You can use PayPal to pay, which will protect your funds.

24 hours customer service >>service@tenflyer.com